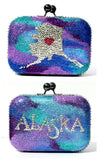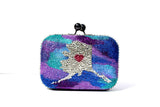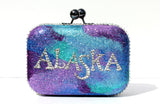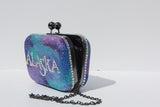 US State Crystal Clutch Purse
Show your home state pride with our sassy US State crystal clutch purse! This smart little chained clutch will make a cute High School graduation gift for a young lady who is heading off to college soon or buy it as a discreet (or not) way to display state pride at your wedding or prom! Or, if none of those apply, just buy it because it's a totally amazing party clutch!
It starts out as a pretty adorable little rectangular clutch with a chain strap and ball clasp, but we add our magic touch to it with some glitter paint and lots and lots of Swarovski crystals! The name of the state and its outline are featured on opposite sides of the purse and a line of bling goes all around the outside.
All 50 states are available for this stylish map purse; please add a note to your order to indicate the state you would like to purchase.
The bag pictured and the one that you will receive is MADE IN THE USA in limited quantities and are a Wicked Addiction original design. We pour our hearts and souls into designing and making our bags and shoes! Please be wary of imitations!
** Please note: These bags are very time consuming to make and are in high demand; they can take up to 4 to 6 weeks to ship.
Please inbox us with any questions, we love to make new creations so please send us your ideas!
Thanks from the Girls at Wicked Addiction