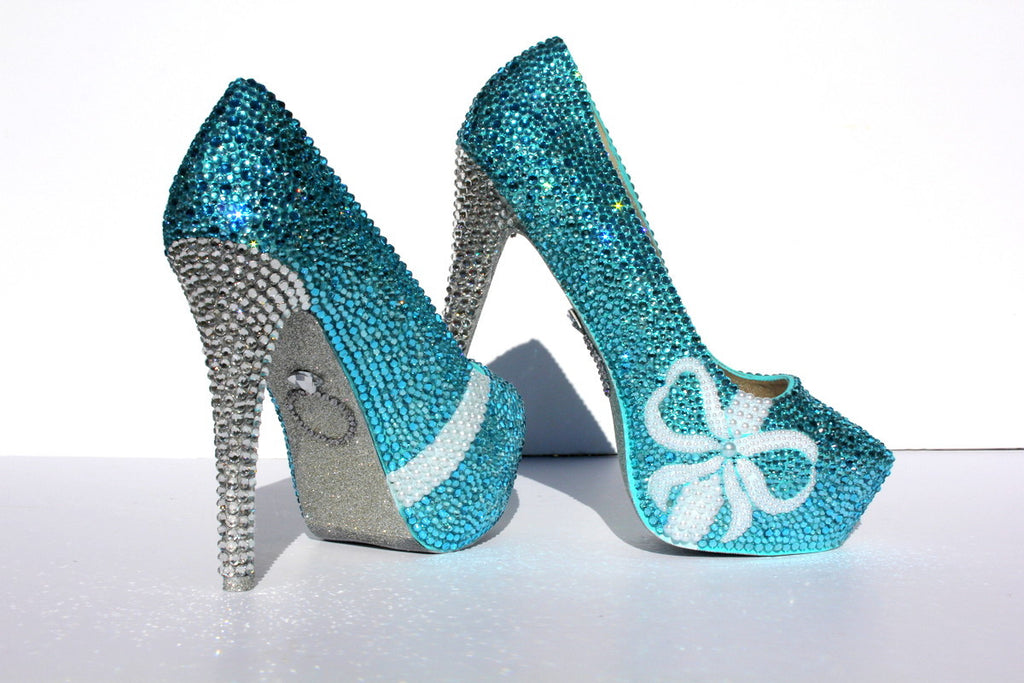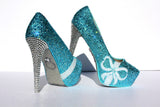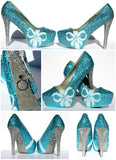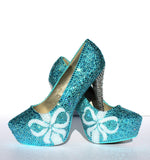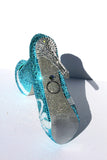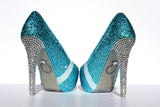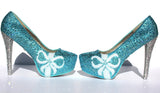 Tiffany Blue Wedding Shoes with pearl bows and crystal heels
Have you been hunting high and low for "something blue" and blinged out? Our aqua crystal bridal heels
are here to save the day!
These stunning bride's shoes are as blingey as can be and with super high heels you'll be stepping down the aisle in some serious style! The shoes are encrusted with fabulous, aqua Swarovski crystals and the sweet white bow on the side of each shoe is done in pearls. The heels of these shoes also sparkle with silver Swarovski crystals!
As you walk, your guests will notice that each of the shoes has a gorgeous "crystal" diamond ring on the glitter-painted soles. There went the bride and OMG those shoes are amazing!!!
The stunning crystal designs on these wedding heels are created by hand. A coat of glitter paint is applied to the shoe then the crystals and pearls are stuck on one-at-a time to create the dazzling designs.
We know you've got a lot on your mind these days, so why don't you just add these beautiful special occasion shoes to your cart and cross "something blue" off your list right now? If you need a matching purse, we've got you covered!
** Please note: These shoes are very time consuming to make and are in high demand they can take up to 4 to 6 weeks to ship.
Inbox us with any questions, we love to make new creations so please send us your ideas!
Thanks from the Girls at Wicked Addiction