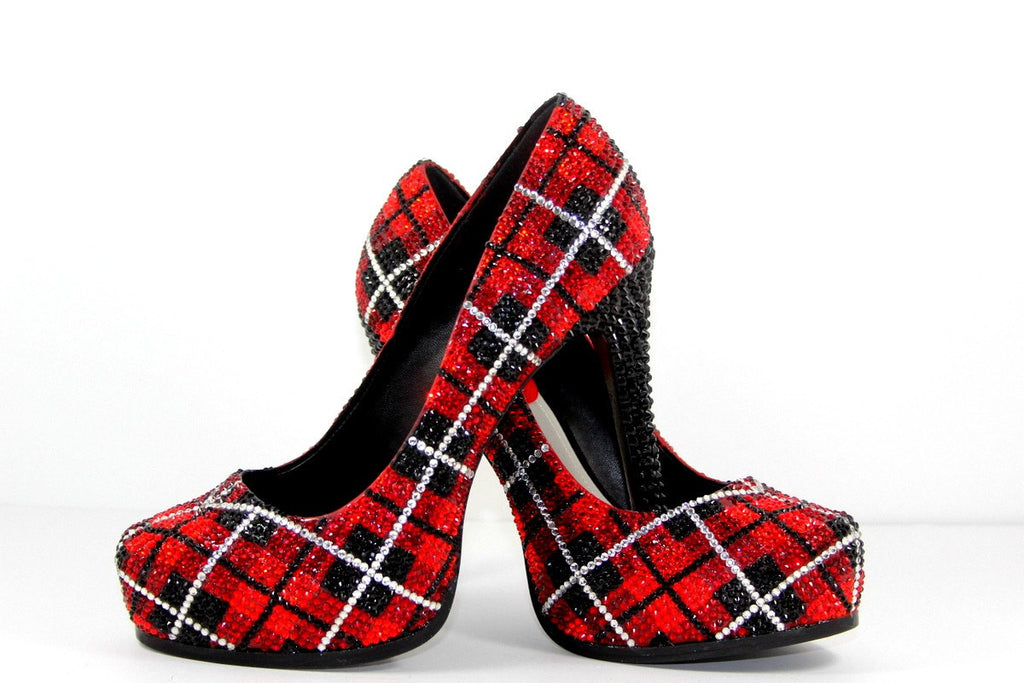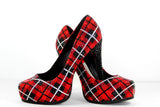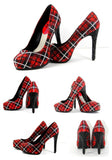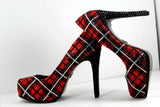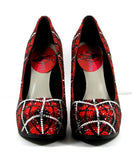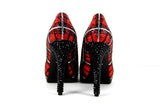 Red & Silver Plaid Swarovski Crystal Heels
These bold Swarovski crystal plaid red and silver heels are daring and charming with a little quaintness towards the Scottish side of things. Whoever said that wearing plaid was not in fashion they didn't know what they were talking about. But whoever thought that you could wear plaid in crystal form on your heels and your feet – well they're just a pure genius! These heels will pair well with a simple black dress or a nice pair of jeans and t-shirt as they in themselves are statement pieces.
These shoes are sure to dazzle as you make an entrance everywhere you go. Completely embellished in red, SILVER, and black crystals complimenting the distinguished features of the rosettes every step you take will shimmer and shine. Buffalo plaid is a Tartan that traces its legacy to 8th century Scotland. There, it ranks the oldest Tartan, a symbol of the most legendary of all Scottish clans, thanks to the near-mythic status of its warrior leader, Rob Roy MacGregor; a name that has inspired countless books and dozens of Hollywood movies.
There are over 3000 Swarovski Crystals on this one of a kind hand painted plaid creation. And, we took it one step further by letting you select what color of paint you want in HIGH GLOSS shine on the soles. (the ones pictured are in black)
These are pretty for a Christmas party or fun night on the town!
THESE ARE MADE TO ORDER SO PLEASE ORDER IN ADVANCE. Will take 6 weeks to create or inbox us for a rush order. We can also customize these to make them your own just let us know what you have in mind.
** Please note: These shoes are very time consuming to make and are in high demand they can take up to 4 to 6 weeks to ship.
Please inbox us with any questions, we love to make new creations so please send us your ideas!
Thanks from the Girls at Wicked Addiction