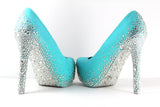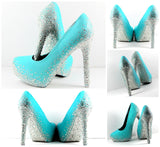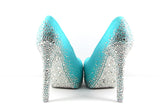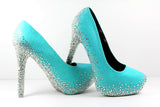 Robins Egg Blue Heels with Swarovski Crystals (Multiple Color Choices)
Wear a little piece of Tiffany's history with these luxurious Tiffany Blue and crystal sole heels.
Wear your own piece of the glamorous Tiffany in these robin's-egg blue and embellished Swarovski crystal heels. This is the perfect accessory for your beautiful wedding day as turquoise was a Victorian bride's favorite color for gift giving. Wear them on your next big date, out with friends, and on the dance floor to really impress and wow over the crowd.
** Please note: These shoes are very time consuming to make and are in high demand they can take up to 4 to 6 weeks to ship.
Please inbox us with any questions, we love to make new creations so please send us your ideas!
Thanks from the Girls at Wicked Addiction