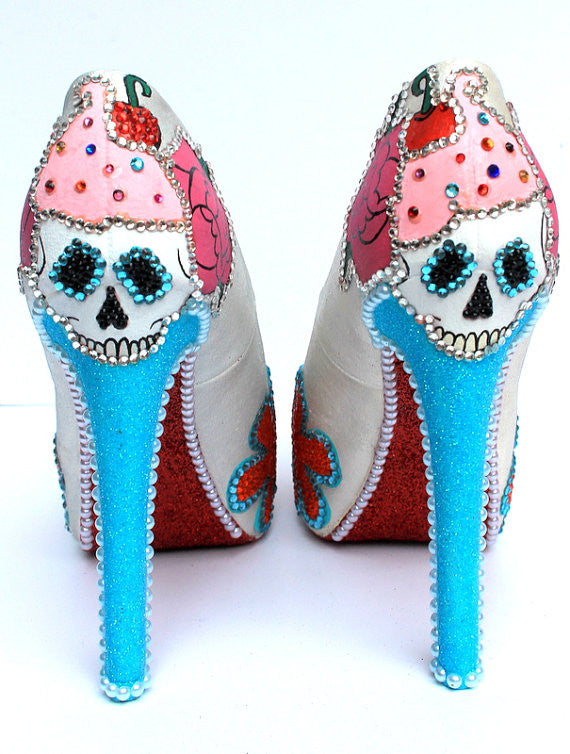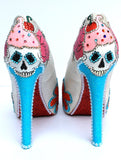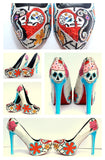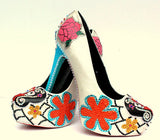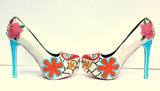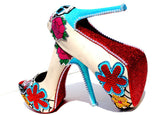 Sugar Skull & Cupcake Crystal Heel
Sugar and Spice
Not these head turners…the Day of the Dead meets Sugar Skull Cupcakes on this eye-catching pair of pumps. These shoes are adorned with over 1000 Swarovski crystals, the Swarovski Crystals and Pearls compliment the detailed sugar skull artwork.
These shoes were inspired by a special customer for her wedding day. The artwork captivates the uniqueness and adoration of the kissing sugar skulls, flowers, webbing and the delectable cupcakes in an array of loud celebratory colors that contrast the foundation in turquoise and ivory. Whether it is your wedding day or a night on the town, we can customize these to your liking.
The glitter and Swarovski crystals accentuate the detailed artwork and bring the colors to life. Show your love of this famous holiday or show off your love of Sugar Skulls in shoes that are sure to be head turners. These shoes are hand painted and blinged out. It takes over 20 hours to create these amazing heels that are a work of art.
Please inbox us with any questions, we love to make new creations so please send us your ideas!
Thanks from the Girls at Wicked Addiction