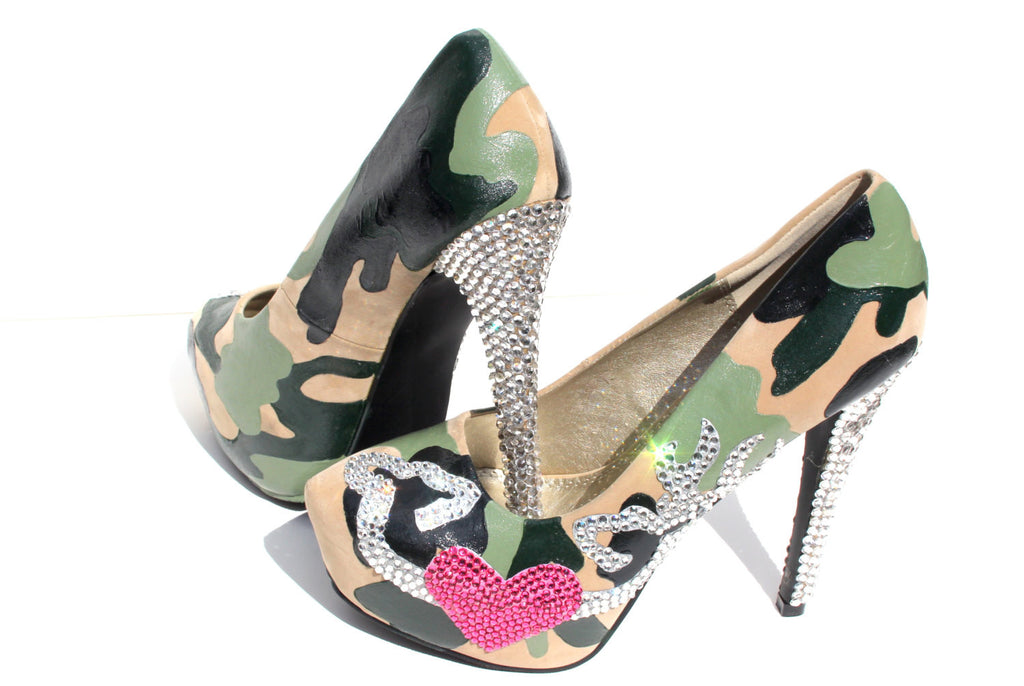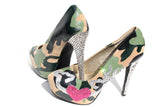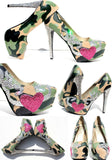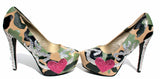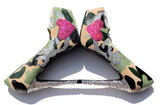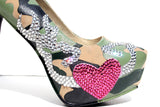 Camouflage Wedding Heels with Heart and Deers
Ladies, the hunt is OVER! Step into these wedding Browning camouflage heels and stand out in this one of a kind design. Made especially for those of you that one of a kind...these shoes are sure to get them talkin and gawking, and will definitely catch the eyes of all.
This shoe can not only be dressed up and worn out for a night on the town, but also worn during the day paired with your favorite camo gear. The shoe has the tan, black, and two colors of green in camo designs on it. We also added the famous buck and doe heads with a heart joining them! So sweet!
Look like the prey that you are…no one will see you coming. "Silly boys, you are hunting for the wrong rack!"
Adorned in crystals these shoes are hand-painted and covered in Swarovski crystals, they have a heel that is given one of a kind blingification and can be personalized with wedding date (as shown) your name, or anything else you can dream up to make them your own! You can also pick your own color combo if you wish!
** The actual heel we used may or can be changed to any other type but same color. We will advise you if this occurs and will make sure you will be happy with the new selection.
All shoes are made to order and take 4-6 weeks to make custom for just for you!
Please inbox us with any questions, we love to make new creations so please send us your ideas!
Thanks from the Girls at Wicked Addiction