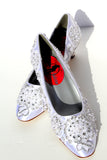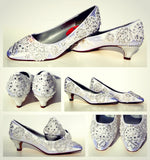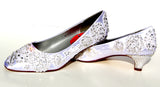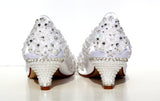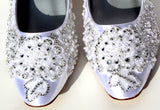 Classic Lace Wedding Kitten Heel
It's your day and we want you to feel like the beautiful princess that you are. Let us make a glamorous pair of crystal adorned shoes that are not only a compliment to your gown but also a memento of one of the greatest days of your life.
These shoes are covered in Lace with Swarovski crystals and pearls design includes linking hearts the names of the bride and groom along with the wedding date.
You can choose the color of the accent crystals to match your wedding colors. We also can do any other design you have in mind. Just message us and tell us your ideas and we can make them come to life. We can work off images you send us of your gown, invitation, or anything else.
CAN ALSO BE MADE IN A DIFFERENT STYLE HEEL. The shoes that are pictured are a 1.5 inch heel but we have several styles you can choose from just message us for details and we can send you over other styles you can select from for the perfect shoe for you.
THESE ARE MADE TO ORDER SO PLEASE ORDER IN ADVANCE.
Dream wedding, dream shoes. I Do!!!
Thank you from the girls at Wicked Addition