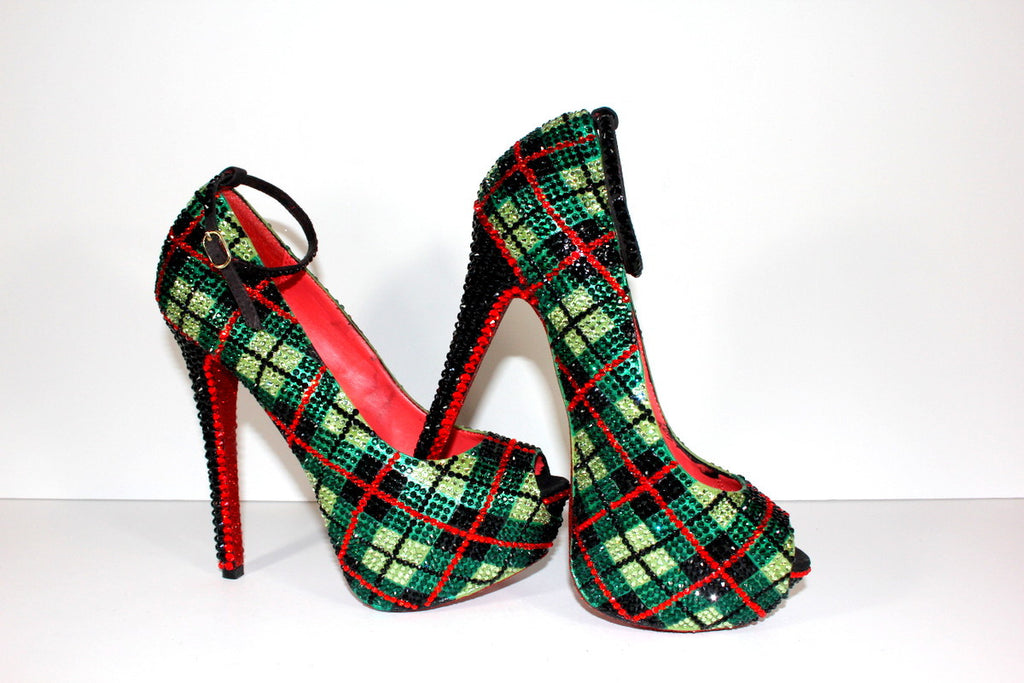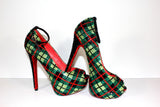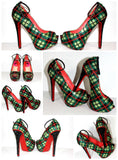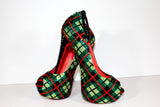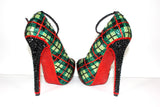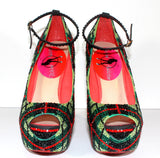 Crystal Plaid Heel: Scotland-Inspired Pumps
Are you a wee bit Scottish? Engaged to a Scottish man? Or just love all things Scottish or Plaid? Then you NEED these shoes!
Scotland is "dead sexy" and men in kilts…uh, sorry where were we?? You. Need. Plaid. Shoes! Specifically these green plaid wedding shoes! They are classic Scottish green, black and red tartan with a modern glittery twist in a high stiletto heel including peep toe and sassy ankle straps; and of course we've blinged them up! They're "verra nice" as bridal shoes, bridesmaid shoes, prom shoes or regular party shoes.
These Scottish wedding heels are made by adding the "Wicked Addiction" touch to a pair of seemingly ordinary heels. We paint them in glitter and then add a ton of colorful Swarovski crystals to create the plaid design. The heels are also encrusted in crystals for added greatness!
The shoes pictured and the ones that you will receive are MADE IN THE USA in limited quantities and are a Wicked Addiction original design. We pour our hearts and souls into designing and making our shoes! Please be wary of imitations!
** Please note: These shoes are very time consuming to make and are in high demand; they can take up to 4 to 6 weeks to ship.
Please inbox us with any questions, we love to make new creations so please send us your ideas!
Thanks from the Girls at Wicked Addiction