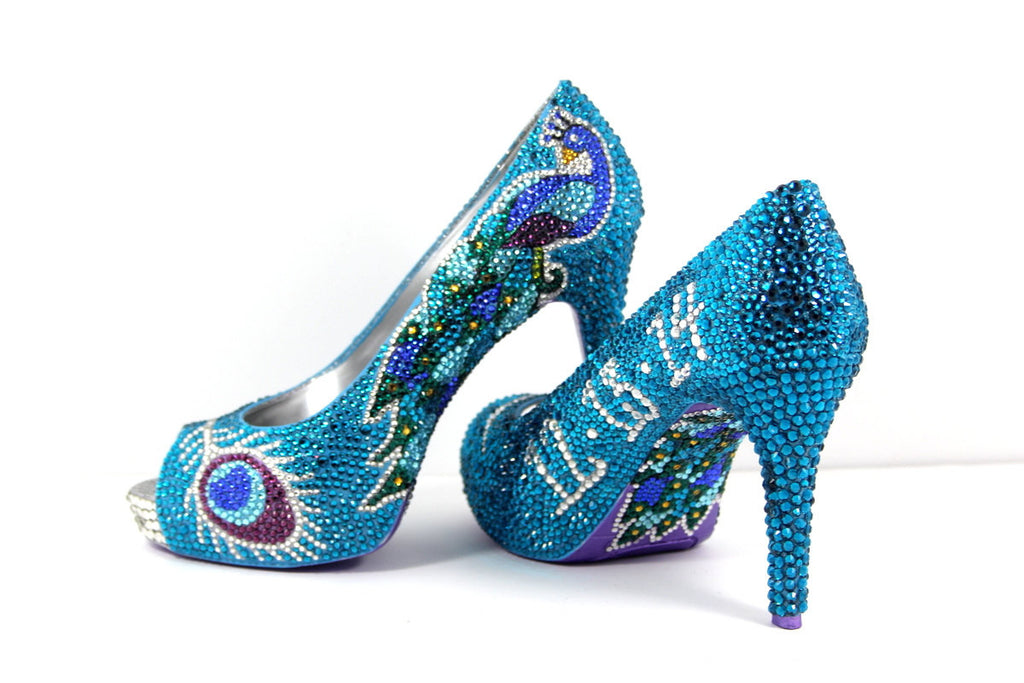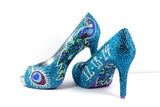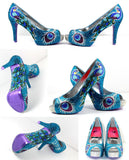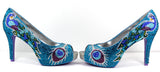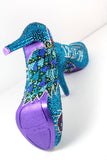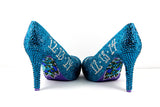 Hand-Painted Crystal Peacock Heels
Oh my, will you be one special adorable, stunning, and amazingly beautiful peacock in these peacock inspired Swarovski crystal collage heels.
Colored in none other than the vibrant sapphire blue, aqua blue, emerald green, and purples of the peacock plus featuring images of the peacock, from a long and flowing peacock tail to a close up of a detailed feather.
These are the showstoppers just like a peacock is and made for your special day or any event. The cutest and most special part of these heels is that the tips of the shoes where your toes will peek out a little bit boldly saying peekaboo is a little dash of white Swarovski crystals to make your pedicure stand out.
Inside the peacock heels at the bottom of the soles of the shoes you'll find a hand-painted collage Swarovski crystal peacock surrounded by a bright and bold backdrop of a lovely painted purple color.
Look amazing and be amazing in these peacock heels.
Hand painted and encrusted with thousands of Swarovski crystals. These can be customized to your liking and we can create the shoes of your dreams. We take the your ideas and help you bring them to life. Whether it is for your wedding day or your birthday party we make the prettiest heels just for you.
** Please note: These shoes are very time consuming to make and are in high demand they can take up to 4 to 6 weeks to ship.
Please inbox us with any questions, we love to make new creations so please send us your ideas!
Thanks from the Girls at Wicked Addiction