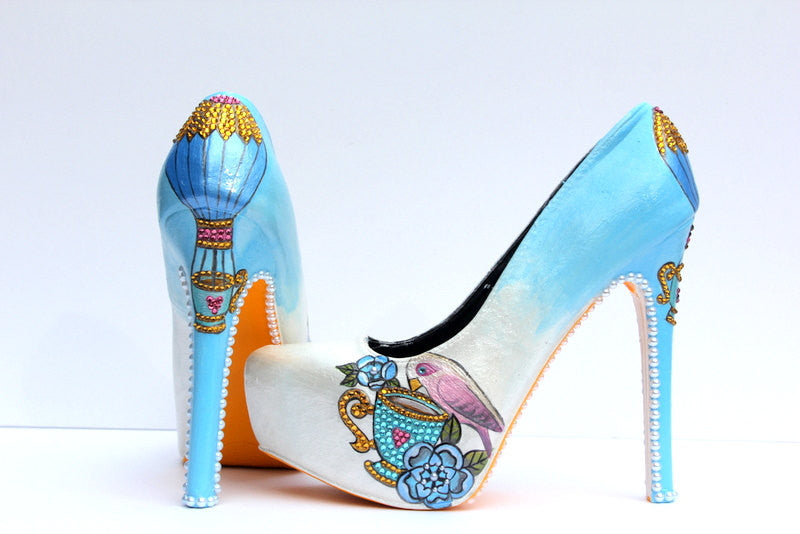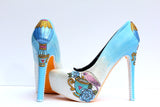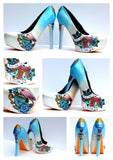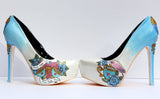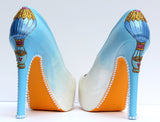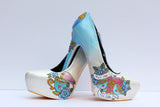 Hand-Painted Hot Air Balloon Heels
Who wouldn't want to join you for tea in these pale blue and silver heels with hand painted swallows, tea cups, and flowers with delicate little Swarovski crystal embellishments? Make a splash at your next tea party, get together with friends, or intimate dinner. These shoes will look absolutely splendid when paired with a short cocktail dress or a long formal gown.
They so delicately transition from powder blue to bright metallic white for a stunning ombre effect that draws the eye from toe to heel and back again. The intricate designs and patterns only lend to enhance the eye captivating part, especially with the floating tea cup air balloon heel. Tea should never be enjoyed by one, but should be made an event with two, so as these shoes declare, "two for tea, tea for two".
** Please note: These shoes are very time consuming to make and are in high demand they can take up to 4 to 6 weeks to ship.
Please inbox us with any questions, we love to make new creations so please send us your ideas!
Thanks from the Girls at Wicked Addiction