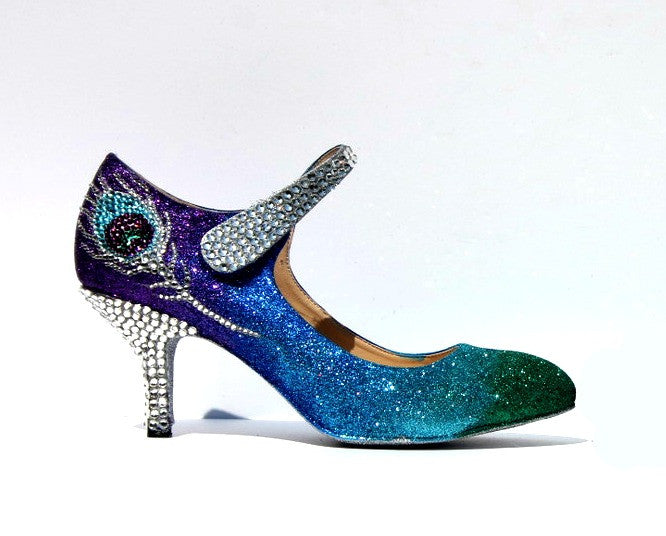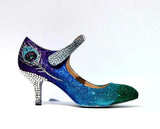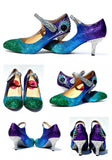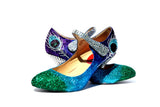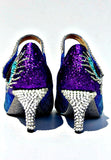 Peacock Feather Crystal Bridal Mary Jane
The colors on these totally fabulous peacock crystal wedding shoes are completely stunning,
just like the real life birds!
These purple and turquoise low heeled Mary Jane's will make beautiful bridal shoes, but it's up to you where to wear them: a party, ball, prom…or just for the sake of it! They could also be part of a truly inspiring Halloween costume!
The purple and turquoise crystal shoes really attract the eye and will instantly add style, elegance and color to any outfit.
These shoes feature a sophisticated ombre effect that starts at the heel in purple glitter and graduates through turquoise to green glitter at the toe. Amazing peacock feathers are hand-painted and then embellished with wonderfully bright Swarovski crystals.
The heels and straps are covered in silver Swarovski crystals while the soles are painted in silver glitter.
These are some of the most beautiful shoes the world has ever seen. Order yours today! We look forward to hearing from you and help you with your custom creation!
.
** Please note: These shoes are very time consuming to make and are in high demand they can take up to 4 to 6 weeks to ship.
Please inbox us with any questions, we love to make new creations so please send us your ideas!
Thanks from the Girls at Wicked Addiction