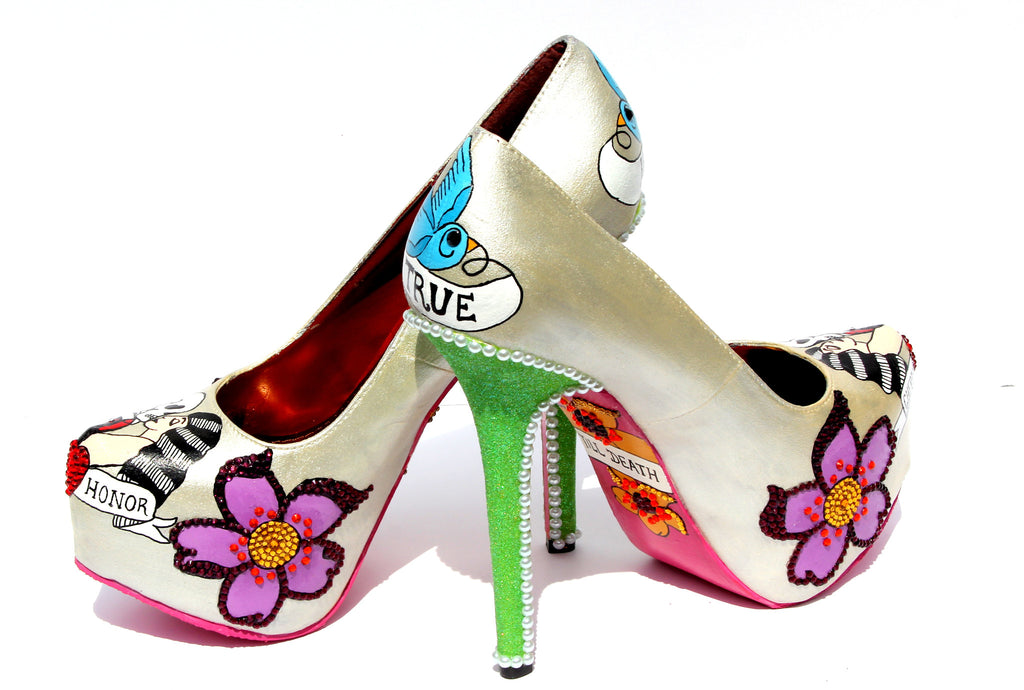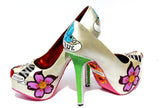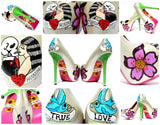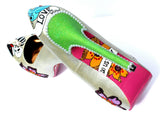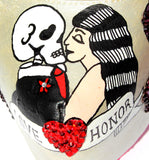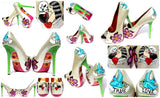 Till Death Do Us Part Sailor Tattoo Crystal Heels
These shoes are adorned with Swarovski Crystals and Pearls that compliment the detailed skeleton groom and retro bride artwork.
The artwork captivates the uniqueness and adoration of the kissing couple, bright flowers, blue swallows, and the banners in an array of loud celebratory colors that contrast the foundation in turquoise and ivory. Whether it is your wedding day or a night on the town, we can customize these to your liking.
The glitter and Swarovski crystals accentuate the detailed artwork and bring the colors to life. Show your love for your one true love or show off your love of old school art in shoes that are sure to be head turners.
These shoes are hand painted and blinged out. It takes over 20 hours to create these amazing heels that are a work of art.
Please inbox us with any questions, we love to make new creations so please send us your ideas!
All shoes are made to order and take 4-6 weeks to make custom for just for you!
Thank you from the girls at Wicked Addition
I tell you now in the beginning so you know from the start. I promise to love you with everything I am with my whole heart.
Not just a piece, not just a little, but with every inch of my heart.
Know I won't lie to you I won't hurt you, my love, Ill never pretend. My heart is always yours completely forever until the end.
With these thoughts moving as a storm blows the wind. Turn back the page so you can read my words once again.
I tell you now in the beginning so you know from the start. I couldn't love another you are the one, the only, the missing part. Close my eyes it's you I see next to me, old and gray, till death do us part