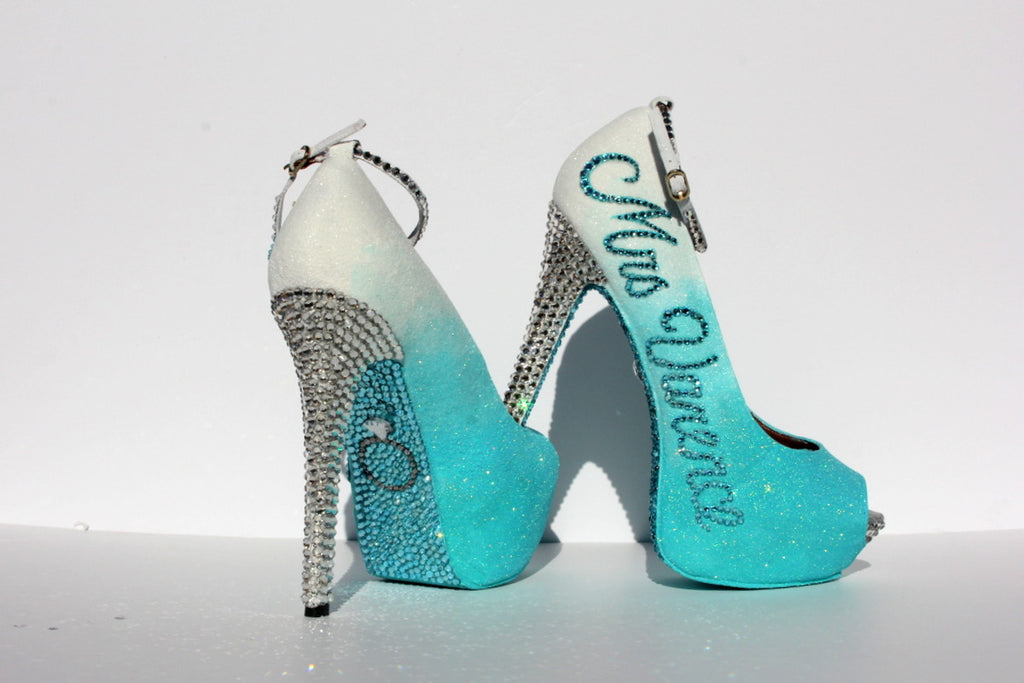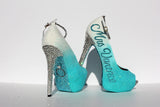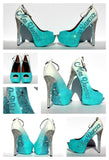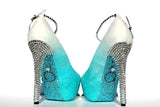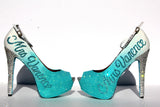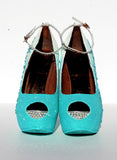 Personalized Wedding Shoe in aqua with crystals
Wow your "Mr." with your sexy "Mrs." shoes as you
step down the aisle in style!
These amazing peep toe aqua ombre wedding shoes are decked out to the max in Swarovski crystals. Your new married name is emblazoned on the side of each shoe in gorgeous scrolling letters and we've added a "diamond" ring in bling on the soles. These stunning bridal heels have lots of cool features in addition to the sparkle; peep toes, classy ankle strap and let's not forget the high heels.
To create these masterpieces of personalized shoe design, we first paint the "blank" shoes with glitter to make the lovely ombre effect that gradually goes from white to aqua. The Swarovski crystals are then added to make the beautiful lettering and we apply silver crystals on the heels and ankle strap and the diamond rings on the soles (which are also encrusted with crystals).
This is wedding shoe perfection people! Stop drooling and add them to your cart STAT!
** Please note: These shoes are very time consuming to make and are in high demand they can take up to 4 to 6 weeks to ship.
Inbox us with any questions, we love to make new creations so please send us your ideas!
Thanks from the Girls at Wicked Addiction