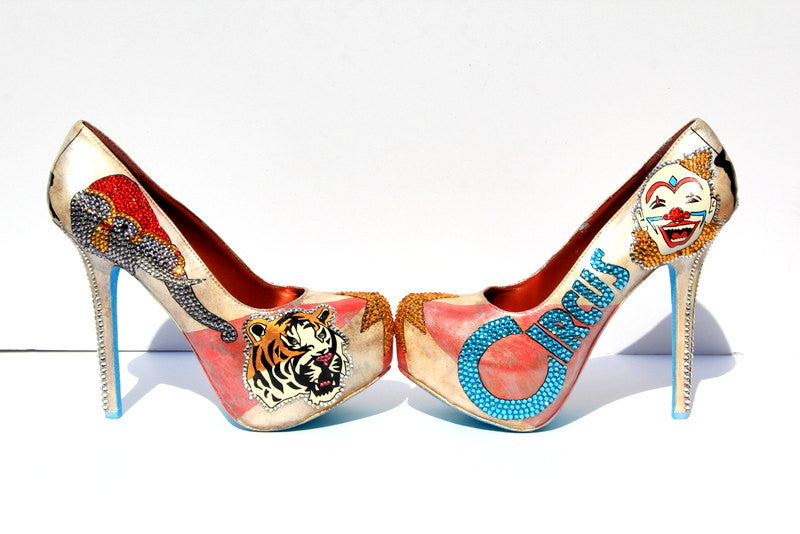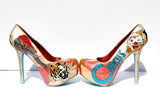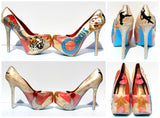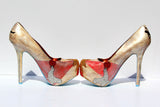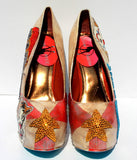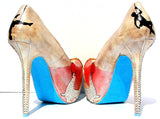 Hand-Painted Circus Ringmaster Crystal Heels
"All eyes on me in the center of the ring!"
These fun and entertaining heels are so joyous! They are inspired by the fun times to be had at the circus!
You will find hand-painted swinging gymnasts, a laughing clown, a roaring tiger, a decorated elephant, a dancing seal and ball, and the shining stars of the show!
Complete with a Swarovski crystal adorned 'Circus'. These are show stoppers to say the least! Join the limelight in the circus stadium with these fun dancing heels that are sure to get some 'oohs' and 'ahhs' from the crowd.
It doesn't matter if you're a fan of the Freakshow or a lover of circuses, these heels are entertaining, joyous, and full of wonder and amazement!
All shoes are made to order and take 4-6 weeks to make custom for just for you!
Please inbox us with any questions, we love to make new creations so please send us your ideas!
Thanks from the Girls at Wicked Addiction